Les Hauts de Condom : charming guesthouses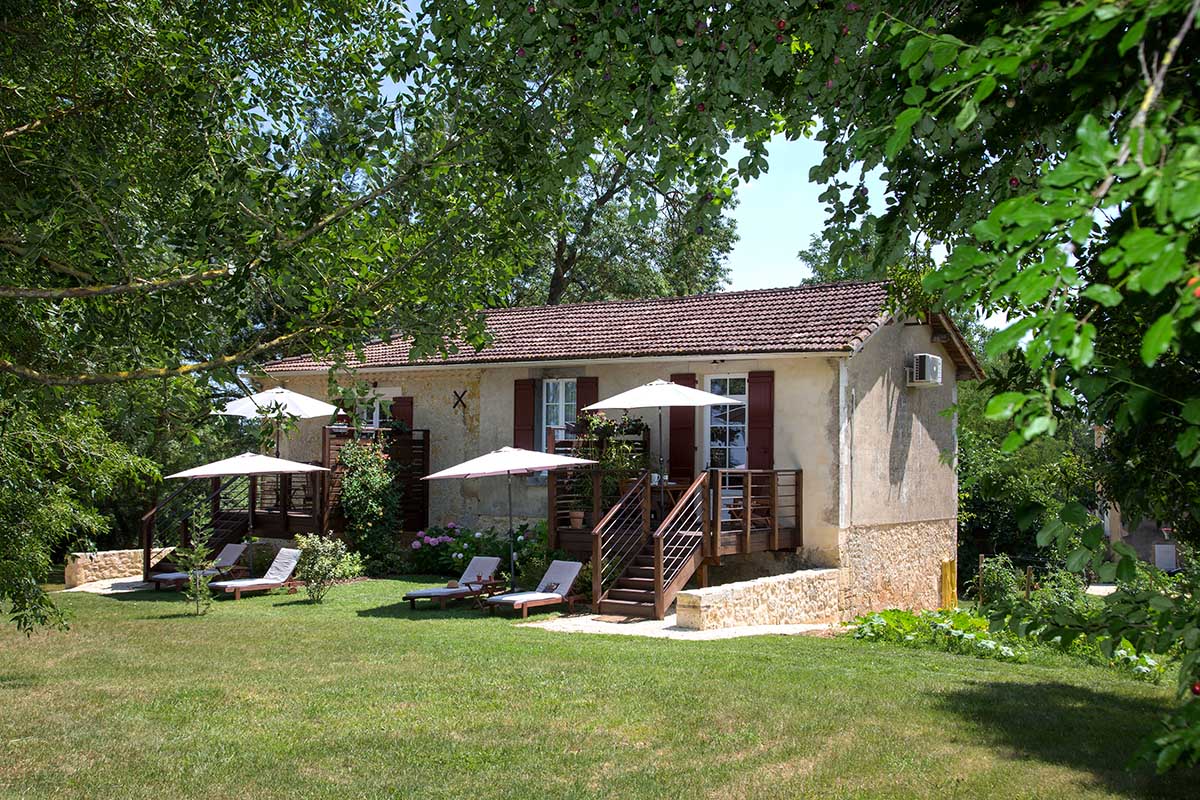 Book one of our 2 Charming Guesthouses classified Gîtes de France 4 Épis. We offer stays of 2 days or more. A Guesthouse for 2 people and a Guesthouse for 2 adults and the possibility of adding 2 children in a convertible sofa bed. Offering a beautiful view on the Gers countryside and Condom, they are located on the first floor of an old 18th century stone Métairie.Renovated in the same spirit as our Bed and Breakfast, with noble materials and tastefully decorated by Hélène.
Situated in a beautiful park of 3 hectares with trees and endowed with beautiful flower beds and rosiers, it is 200 m from a 20 km-long bike and hiking trail and a path leading to a St-Jacques-de Compostelle path and offering numerous walks.
Air-conditioned, with an area of 40m2, each of them with a large wooden terrace of 10m2, where you can enjoy breakfast in complete tranquility looking at the Gers countryside. In the evening, you can enjoy a cocktail while admiring the sunset and the cathedral of Condom. Our Guesthouses allow you to make a peaceful stop during your stay in the Gers. 2 nights minimum stay. Not accessible to people with reduced mobility.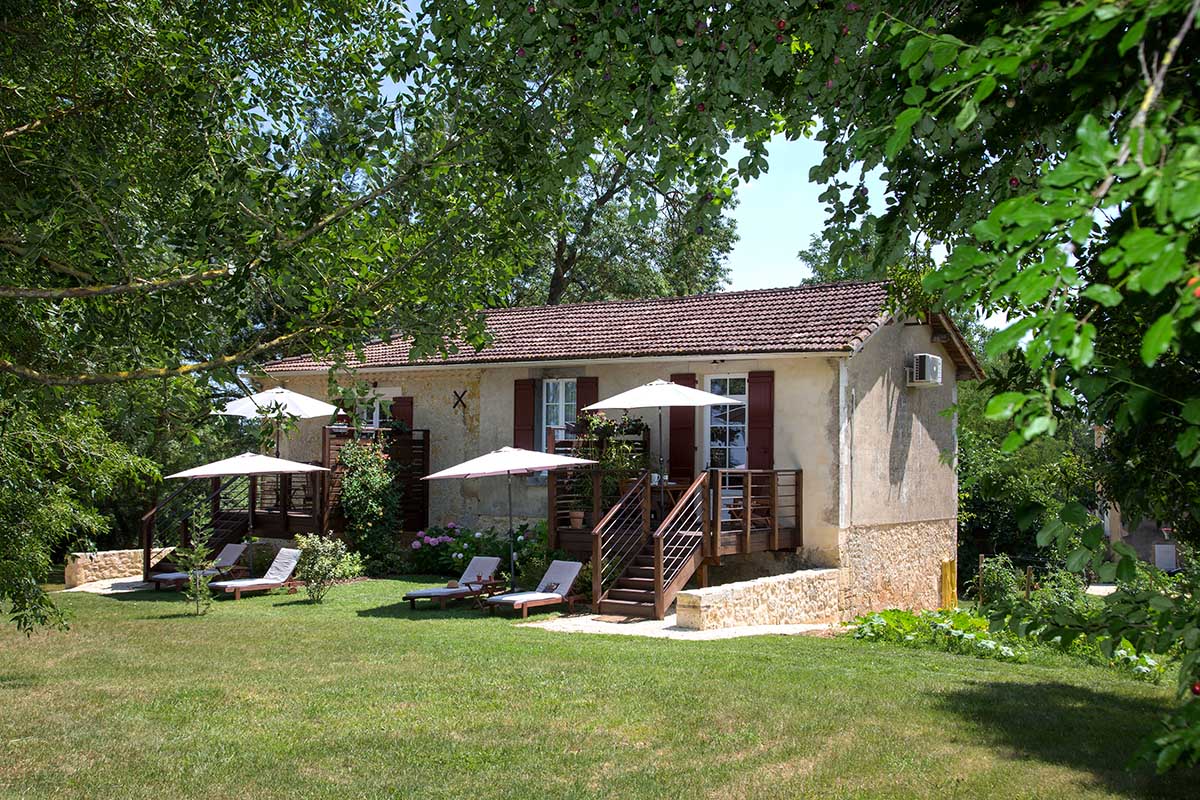 Availability and details of the apartments
Your English is better than my French, Eric Kirchman (02/2023)
Food & Sens, Automne 2022 (09/2022)
The Sunday Times, Automne 2022 (09/2022)
L'Auto-Journal, Été 2022 (07/2022)
The Guardian Newspaper, Londres (09/2021)
The Times Newspaper, Travel Magazine, Londres (08/2021)
Les adresses de Marie-Dominique Perrin - Automne, 2020
Avis Booking.com : note 9,6
Vidéo Gîtes de France sur les Bruhasses (09/2017)
Côté Gers, Été 2018. Sur la route des Bruhasses
La Dépèche, Les Bruhasses récompensés (01/2018)
The Bayer, Armagnac Spirit Neil Hennessy (12/2017)
Style Campagne, La Ferme aux 2 Tours Sofia Kacem (10/2017)
Food and Travel, That's the Spirit Alex Mead (10/2017)
La Dépêche, Parmi les meilleures chambres d'hôtes de France (01/2017)
Valeurs Actuelles, Tour de France des chambres d'hôtes (05/2016)
Magazine Terre de Vins, Bonnes adresses pour vos vacances (04/2015)
Télématin France 2, Made in France, Marie-Dominique Perrin (10/2014)
Travel Channel Chinois, Hélène a cuisiné avec le Chef du Ritz CarlTon de Beijing (02/2014)
Chambres d'hôtes et Hôtels d'exception par Marie- Dominique Perrin (05/2014)
Vivre en Armagnac Les intérieurs des plus belles demeures viticoles, Geneviève et Daniel Rey (04/2014)
Sud-ouest Mag Guide de l'Été, l'Art de Vivre Gascon (06/2014)
Sud-Ouest Mag, Guide de l'Été, l'Art de Vivre Gascon (06/2014)
PUBLICATIONS IN WHICH OUR GUEST HOUSE IS MENTIONED