Room
Rate for 1 or 2 people
July to September 2020
Rate for 1 or 2 people
October to December 2020
Clair de Lune
94,00€/night
94,00€/night
Harmonie du Soir
94,00€/night
94,00€/night
Hymne au Soleil
104,00€/night
104,00€/night
Ballade en Rêve
104,00€/night
104,00€/night
Fleurs d'Aurore
99,00€/night
99,00€/night
Suite Fleurs d'Aurore
4 people : 154,00€
4 people : 159,00€
Opening Period 2021: from  15/01/2021 until 18/12/2021.
Rates are for one night, breakfast included.
Free cancellation.
Additional person : 20,00 € – Children 3/17 yrs : 15,00 € – Children -3 years : free.
For stays over 7 days and more 10% off per night double occupation direct reservation.
One person tarif is not available from May to September.
Direct reservation to the owner

Payment: checks / Holiday vouchers / Cash / Bank transfers / Paypal
Availability and details of rooms and suites
Table d'hôtes from the market: 35,00 €
Apéritif, wines and Armagnac 2000 included.
Children 13/17 yrs: 25,00 €
Children 4/12 yrs: 15,00 €
Children -4 yrs: free
Apéritif: 7.30 pm – Table d'hôtes: 8.00 pm
Table d'hôtes according to availability. Minimum 6 guests.
Please insure that your request has beeen confirmed.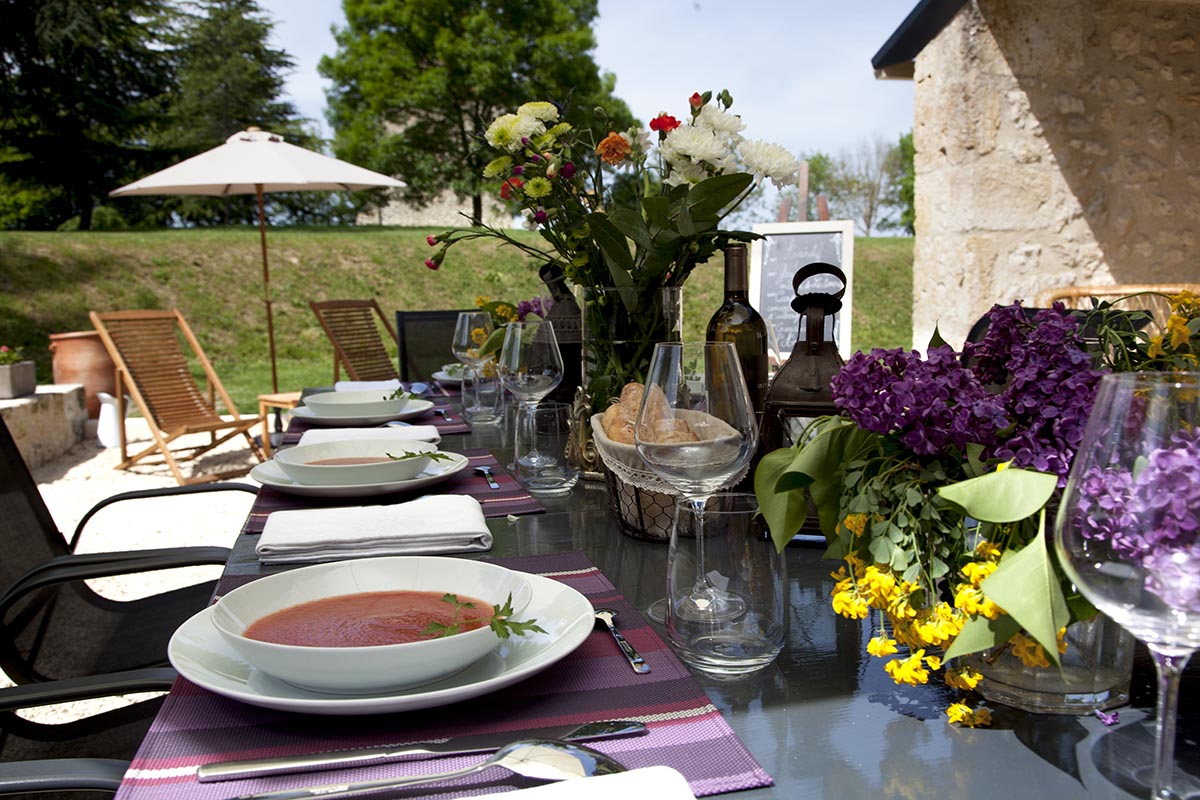 Our guest house is not a hotel and defines itself as a placeof peace and serenity, during daytime and at night.
For any reservation, a deposit of 25 % of the stay, with a minimum of an overnight stay by reserved chamber will be asked for or taken by our establishment during the reservation.
Payment of the balance is due on your arrival.
Tourist tax 0,75 Euro/day. Not included in the room price.
All rooms are non-smoking. Smoking is allowed in the garden.
The arrivals are made between 5 pm and 7 pm. No arrival before 5:00 pm or after 7:00 pm without preliminary agreement of at least 24 hours before your arrival will be accepted.You have to warn us in case of delay.
Rooms have to be vacated before 11 am.
No non-resident person will be admitted on the property without a preliminary agreement with the owners.
Before any reservation, please read the General Conditions of Agreement.
We do not accept animals.
No party allowed.
Refrigerator and Microwave at your disposal.
Washing machine(machines): 3 €
Tumble-dryer: 3 €
Bike according to availability
Baby cot according to availability
Free parking places on site
20 kms cycle and pedestrian Track, 200 metres away.
Les adresses de Marie-Dominique Perrin - Automne, 2020.
Booking.com, Avis note 9,8
Côté Gers, Été 2018. Sur la route des Bruhasses
La Dépèche, Les Bruhasses récompensés (01/2018)
The Bayer, Armagnac Spirit Neil Hennessy (12/2017)
Style Campagne, La Ferme aux 2 Tours Sofia Kacem (10/2017)
Food and Travel, That's the Spirit Alex Mead (10/2017)
La Dépèche, Parmi les meilleures chambres d'hôtes de France (01/2017)
Valeurs Actuelles, Tour de france des chambres d'hôtes (05/2016)
Magazine Terre de Vins, Bonnes adresses pour vos vacances (04/2015)
Télématin France 2, Made in France, Marie-Dominique Perrin (10/2014)
Travel Channel Chinois, Hélène a cuisiné avec le Chef du Ritz CarlTon de Beijing (02/2014)
Chambres d'hôtes et Hôtels d'exception par Marie- Dominique Perrin (05/2014)
Vivre en Armagnac Les intérieurs des plus belles demeures viticoles, Geneviève et Daniel Rey (04/2014)
Sud-ouest Mag Guide de l'Été, l'Art de Vivre Gascon (06/2014)
Sud-Ouest Mag, Guide de l'Été, l'Art de Vivre Gascon (06/2014)